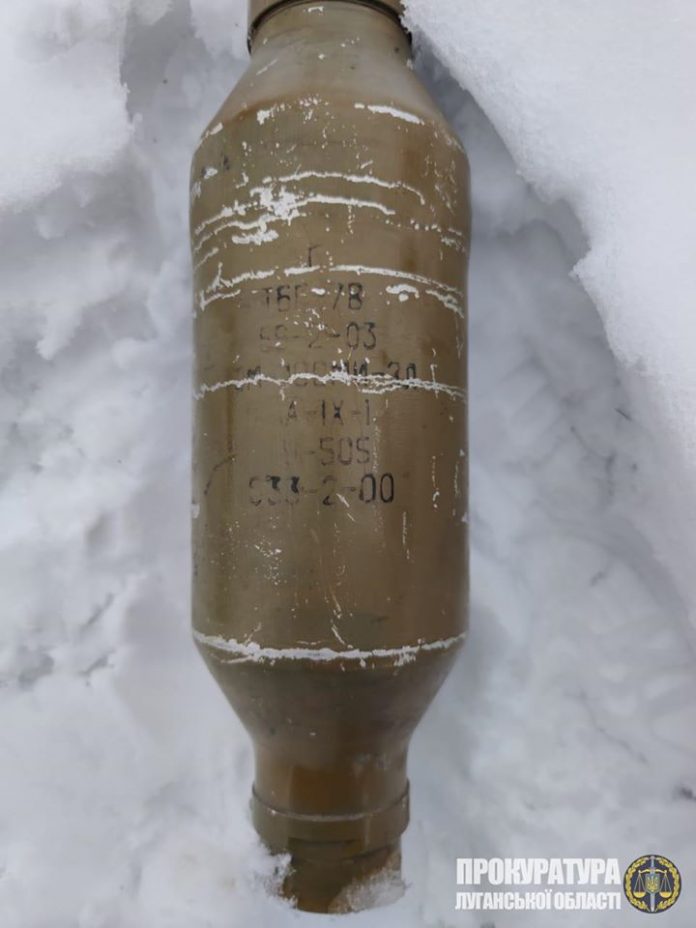 During mine clearance within the area of the Joint Forces Operation the Ukrainian military have found a Russian-made weapon, which is used exclusively by the army of the Russian Federation.
"In the area of the Joint Forces Operation, work continues on documenting more facts of arms supplies by the Russian Federation to the illegal armed groups in the temporarily occupied territory of Luhansk and Donetsk oblasts," the JFO headquarters noted.
The mine clearing was conducted near the withdrawal site near ​​Stanytsia Luhanska. The evidence revealed was a TBG-7V high-impulse thermobaric shell (for an RPG -7V grenade launcher), manufactured in Russia in 2003.
"The specified ammunition is not manufactured in Ukraine and isn't in service with the Armed Forces of Ukraine. It is used exclusively by the army of the Russian Federation," the headquarters emphasized.
The prosecutor's office of Luhansk Oblast, together with the officers of the SBU's Military Counterintelligence and the Pivnich [North] tactical group, which are part of the Joint Forces, have documented this fact. The new evidence has been attached to the materials of the criminal proceedings under Part 2 of Article 437 (conducting an aggressive war), Part 1 of Article 438 (violation of the laws and customs of war) of the Criminal Code of Ukraine.
The investigation found out that this type of weapon is used by representatives of the Russian armed forces and the Russian occupying administration in Luhansk Oblast to carry out military aggression against the Ukrainian Armed Forces.
Later, material evidence will be forwarded to the Office of the Prosecutor at the International Criminal Court as another proof of Russia's involvement in the armed conflict in Ukraine.
As The Journalist reported, Militants shelled Horikhove from banned weapons.
Подписывайтесь на telegram-канал journalist.today