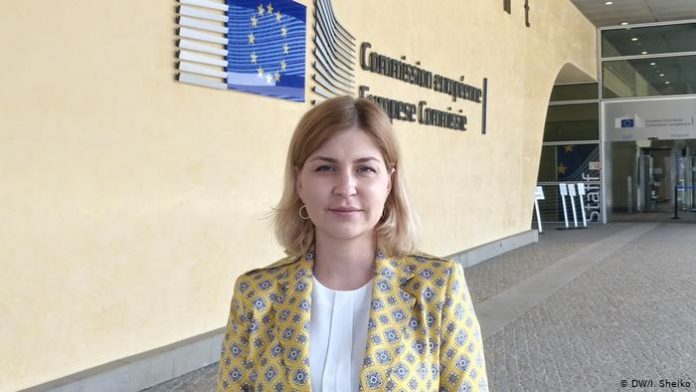 The Deputy Prime Minister for European and Euro-Atlantic integration of Ukraine, Olha Stefanyshyna, has said that during negotiations with the EU Commissioner for Neighborhood and Enlargement, Oliver Varhelyi, in Brussels the parties agreed on the launch of an expert mission that would prepare Ukraine for the conclusion of the so-called industrial visa-free regime, DW reports.
"The mission is already working in Ukraine. The first phase of the mission is remote. This is an assessment of the law. We very much hope that there will already be the results of a legal assessment of the situation in Ukraine by the summit start," Stefanyshyna said.
The Vice Prime Minister expects that immediately after the presentation of the results, the EU physical mission starts its work to determine how the conformity assessment system for industrial products works in Ukraine.
According to Stefanyshyna, during a "fruitful meeting" held with Varhelyi "they agreed to launch an expert mission as soon as possible, which will prepare Ukraine for the conclusion of the ACAA (Agreement on the assessment of conformity and acceptability of industrial products – ed.)"
Stefanyshyna also stressed that despite COVID-19 pandemic, she expected significant progress to be made on most issues before the Ukraine-EU Summit in October, such as updating the Association Agreement between Ukraine and the EU, signing the Joint Aviation Space Agreement with the EU, a digital agenda and participation of Ukraine in the European Green Agreement, Interfax-Ukraine reports.
At the same time, the Deputy Prime Minister for European and Euro-Atlantic Integration of Ukraine focused on the importance of liberalizing the EU freight road transport market.
"This is a key condition for a quick recovery in trade. Liberalization will increase our bilateral trade with the EU and solve the problem of transport permits for freight transportation," she added, noting that Ukraine also hopes to strengthen military cooperation with the EU by joining the Permanent Structured Cooperation on Security and Defense (PESCO), and participating in missions and operations led by the EU.
Read also: Ukraine withdraws from another CIS agreement.
Подписывайтесь на telegram-канал journalist.today