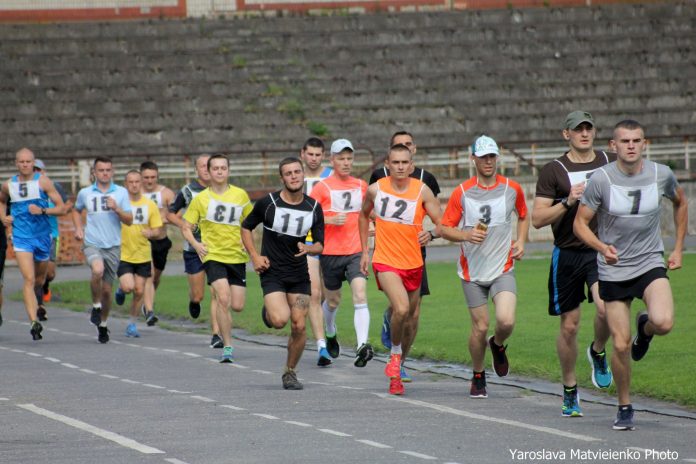 Photo: Yaroslava Matvieienko
On July 20th, about 70 veterans and servicemen with injuries tried their physical strength in the selection to Ukrainian team for US Marine Corps Marathon at CSK stadium of the Armed Forces. Potential marathoners run 5 and 2 kilometers.
For the third time Ukraine will participate in this international sporting event. This fall in the American capital, our veterans will run 10 and 42 km. The initiator of the participation of Ukrainian team is the authorized representative of the President of Ukraine on rehabilitation of ATO veterans Vadim Sviridenko. In 2016, Vadim was the first to represent Ukraine at the 41st marathon of the US Marine Corps in Washington, where he became a prize-winner after running 10 km
Such sporting events – for veterans it is possibility not so much to compete but serve as the best way of social and psychological rehabilitation, because they are among their fellow men.
Participants of the mini-marathon shared their impressions:
Pavlo Kovalskyi (Lutsk city)
Today I participate in the selection of the marathon team for the second time. This year is a little easier, because physical preparation has improved, and the weather contributes – not as hot as last year. Football helps, the respiratory system works better. The goal is to do it as much as possible, running through the chosen distance, to overcome your body, also partly your laziness and at times unwillingness to play sports, your injuries and illnesses. Therefore it is necessary. While you are young and your arms and legs are in place, we will live and continue to develop. I fought in the 51st separate mechanized brigade in the first wave of mobilization and as part of the 128th separate mountain assault brigade, the 15th Uzhgorod battalion. I was wounded in 2015 during the capture of Debaltsevo. Today I see an improvement in the result, which again can be improved. Before the war I was fond of football, but not professional. In the university years, I did bit athletics, ran for short distances. Last year I did not practice – I took part in the company with my colleague. This year, the preparation was more active, but spine trauma still does not allow to fully intensify exercises, so I work in an economy mode.
Yurii Kozlovskyi (Lviv city)
-Despite injuries, I continue to serve in the state border service. Until the last day, I was determined to run 10 km. I am grateful to the organizers that they did not torture us now and gave us less distance to run, so I was running «only» 2 km. For today, I did not set myself a super-goal, it's just an opportunity to try to run at the pace, in which, if lucky, I will run on the marathon. Neither before the injury, nor after, I had no great sport achievements. Therefore, if at least 70% of the tempo that I showed today, I will be able to finish, for me personally it will be an excellent result. If we talk about adaptive sports, it's hard to be objective. A person may not have amputations, but this does not mean that he or she does not have serious inside injuries, which, under physical exertion, can reveal.
The organizers of the project promise to announce the names of ten members of the current team already this Friday. 43rd US Marine Corps Marathon will be held October 28th in Washington, USA. In addition on October 7th in Kyiv our own veteran marathon will be held.
Text and photo by Yaroslava Matvieienko
More details in the video story «Journalist»
Подписывайтесь на telegram-канал journalist.today