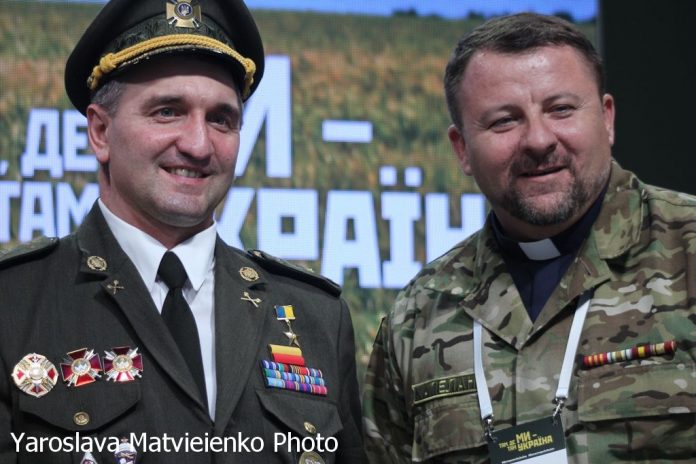 Photo: Yaroslava Matvieienko
On the eve of the 27th anniversary of Independence Day an important event took place in the capital: International Volunteer and Veteran Forum «Where we are – there is Ukraine». For two days in a row, on August 22 and 23, Mystetskiy Arsenal united veterans, volunteers, representatives of authorities, public organizations and all indifferent to this important for the country issue.
The forum was opened by the President of Ukraine Petro Poroshenko:
«How our army has changed, our Armed Forces have changed, you know better than anyone that I'm here to tell you. After all, this was done by our joint efforts. But I beg you – do not be silent. After all, only you know where we started. Help the society hear you and draw an objective conclusion. Both the leadership of the Ministry of Defense and the leadership of the Armed Forces say that the help of volunteers remains important for the Ukrainian army and now, when the army is already fed, dressed, armed. Volunteering has now new priorities. And these volunteers have been and remain reliable partners of the state in strengthening and restoring the Armed Forces, all security structures. Parliament should continue the path of reforms that our state has been moving for the last four years. This applies to representatives of the Government, including the newly created Ministry of Veterans Affairs. This applies to the veterans themselves and volunteers. But the fact that today we are discussing such important issues in this room gives me a firm conviction that we are on the right way».
The first day of forum was called «Veterans for Change» and was divided into such global discussions as «The State for Veterans. Presentation of projects of state policy in the field of social adaptation of veterans», «Foreign experience of socialization of veterans», «Stock exchange of veterans' projects».
Much time of the first day was devoted to issue of Ministry of Veterans Affairs of Ukraine, project team of which reported on the process of its creation, achievements and problems on this difficult road. In what all the present were in solidarity, it is that the Ministry should be headed by a veteran, and most managing places should be given to veterans. There are educational initiatives now for veterans to train future ministry workers.
During discussions, most veterans talked about their own experience of adaptation and socialization. Many found themselves after returning through sports or a completely new kind of activity, someone began to embody long-standing professional dreams. It was interesting to hear the ways of solving such a problem as the employment of veterans, existing problems and ideas for overcoming them.
Also, some stereotypical and, consequently, ineffective means of returning the veteran to peaceful life were voiced. For example, rest in sanatoriums, where the military, instead of being distracted, again fall into the same environment they have been to. The issue of training for families of fighters and their preparation for the return of a son, father or husband from war was raised.
Attending the event, Ambassador of Ukraine to the United States Valeriy Chaly noted that he will continue to lobby the interests of assistance to Ukrainian veterans from the United States, although if Ukraine uses it. To date, there are 15 places in America for rehabilitation of seriously wounded, but they remain unclaimed. In addition, the US government recently provided funds for the study of Ukrainian rehabilitation specialists.
In short breaks the visitors of the forum had an opportunity to see the photo exhibition «Faces of Peace». The project of photographer Dmitriy Muravskiy was born from his previous book «Through the war. The view of volunteer». Photos show faces of people photographed in real combat conditions. Photos are placed in the space of peaceful life, for example, in Kyiv, as a reminder of who we owe our relatively quiet daily routine. Further work plans to exhibit in the most unexpected places.
Foreign guests also came to the forum. In particular, the delegation of US veterans of Ukrainian origin came. Americans shared their experience and spoke during both days of forum. Delegates stayed in Ukraine for another week, during which they got acquainted with our veterans, military and rehabilitation projects, visited hospitals, educational military institutions.
In the evening, a closed auction of paintings took place. Collected funds will go to functioning of Veteran's House in Zhytomyr. Opening of Veteran's House there is scheduled for the Day of the Armed Forces of Ukraine, October 14.
Author of text and photos: Yaroslava Matvieienko
Recently The Journalist studio visited, psychologist and volunteer Olha Shvets who told how people who returned from the war.
Подписывайтесь на telegram-канал journalist.today