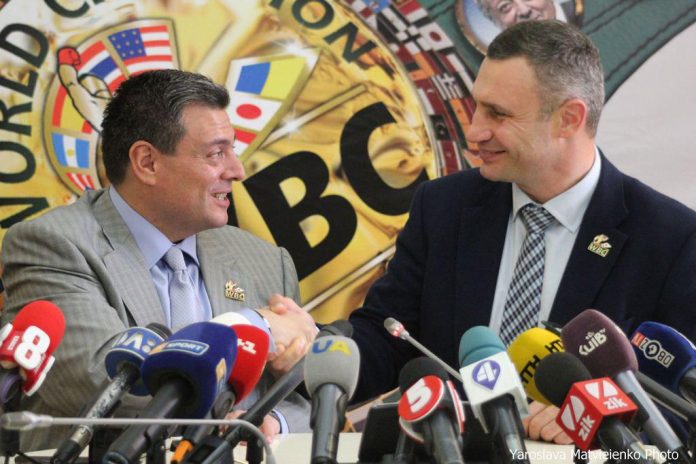 Photo: Yaroslava Matvieienko
For a whole week, from September 30 to October 5, Kyiv will become the capital of world boxing. About 700 participants from 160 countries will come to 56th Congress of World Boxing Council (WBC).
Mayor of capital during briefing for media promised an interesting and rich program to guests and participants of congress. In addition to the official opening and closing ceremonies, a charity auction is planned, a visit to one of the Kyiv orphanages, an autograph session with legendary athletes, a boxing evening, a show of boxers' talents, a visit to the Ukrainian Boxing Hall of Fame. Vitali Klitschko hinted about surprises and intrigue was still preserved.
Vitali Klitschko (Kyiv city head)
«I'm happy that I could realize my dream and hold a WBC convention in our hometown. It is not so simple, as there are a whole huge queue of countries and cities wishing, as this is a chance not only to give impulse to sport, but also to present our country. I am sure that the decision to hold a congress in our capital was undoubtedly influenced by the recent successes of Oleksandr Usyk and Vasyl Lomachenko. It is very important that not only the world's boxing stars, but also Ukrainian boxing stars will take part in the congress. Those people who build this sport and do everything to develop it so it will become even more popular. Sport unites, has important social and physical components, opens up opportunities, and brings to life discipline and responsibility. With Lennox Lewis, we are preparing a meeting, which has not happened yet. We are both ready and waiting for it. A small surprise, which will be interesting not only to box fans. Have little patience, soon you will find out about everything».
Mauricio Sulaiman (President of World Boxing Council (WBC)
«The organization of this event took ten years. It was the dream of my late father, whom he discussed with his favorite champion Vitali for many years. WBC is organization of the most outstanding champions like Mohammed Ali, Mike Tyson and others. During such congresses, which the world of boxing expects for a whole year, we make important decisions, as a result of which boxing becomes better. Organizing such an event is hard work that requires a lot of effort. I can say that working with such a team is an honor and a pleasure. Everything is just perfect!
The biggest problem now in professional boxing is the abuse of power by those who consider themselves untouchable. These are promoters and those who organize fights. When an athlete or movie star and, in fact, someone else completes professional career, depression comes. Previously, you were the center of attention and suddenly you are on the sidelines, people are already looking at others. That's why Vitali's story is a vivid example of success. He found another way. But not everyone is so lucky. WBC supports boxers before, during and after their life in the ring».
Photo and text by Yaroslava Matvieienko
More details about the future event in The Journalist video story.
Earlier, The Journalist reported that World Boxing Council (WBC) Congress will be held in Kyiv.
Подписывайтесь на telegram-канал journalist.today