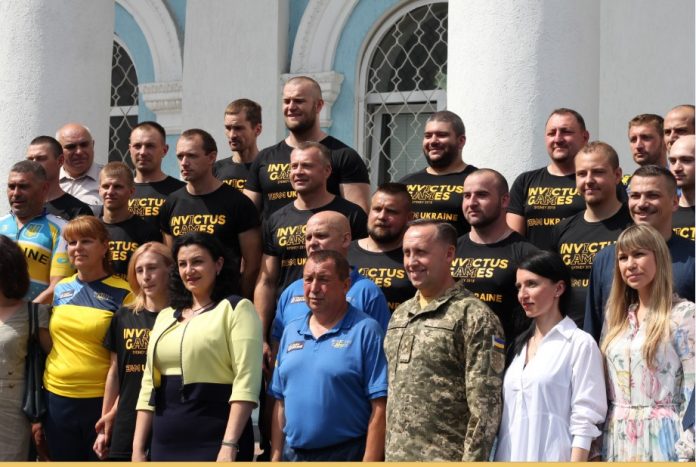 On June 18th, members of the Invictus Games Team Ukraine 2018 were introduced to media representatives on the sportive base of the Armed Forces of Ukraine and thus to the general public. They are fifteen as it was last year. It should be noted that four of the fifteen participants were members of last year's reserve team. This year they participated in sports testing, held in Kyiv, Lviv and Odessa, and the National competition, which took place on May 12th, on general terms. The names of those who will defend the honor of Ukraine were published on the website of the Invictus Games Team Ukraine on June 1st.
Therefore, let me officially introduce the Invictus of 2018:
Oleksandr Belobokov (athletics, indoor rowing)
Oleksandr Gavrilenko (powerlifting)
Yurii Dmytrenko (athletics, swimming, indoor rowing)
Oleksandr Zozulyak (cycling on the highway, archery)
Serhiy Ilnitsky (powerlifting, indoor rowing)
Volodymyr Korol (swimming)
Maya Moskvich (archery)
Bogdan Oksentyuk (swimming, athletics)
Eugene Oleksenko (powerlifting)
Vasyl Omelchenko (athletics)
Andrew Usach (archery, indoor rowing)
Denis Fischyk (road cycling, swimming)
Oleksandr Chalapchiy (athletics, road cycling, indoor rowing)
Sergey Shymchak (archery, road cycling)
Victor Shynkaruk (athletics, swimming)
You better remember these names. Soon we will have not one but far more reasons to be proud about them as they compete in Sydney from 20-27th of October.
The first training camp for the Invictus began on June 14th. Now the participants train actively, despite heat, and create a team spirit. In the near future they will also have an important task to choose the captain of the team.
It has become known that The 2020 games are scheduled to be held in The Hague and Rotterdam, Netherlands, in May.
For your information:
The Invictus Games is an international adaptive multi-sport event, created by Prince Harry, in which wounded, injured or sick armed services personnel and their associated veterans take part in sports including wheelchair basketball, sitting volleyball, and indoor rowing. Named after Invictus, Latin for «unconquered» or «undefeated», the event was inspired by the Warrior Games, a similar event held in the United States. The first Invictus Games took place in March 2014 at the Queen Elizabeth Olympic Park in London, United Kingdom.
Text and photo Yaroslava Matvieienko
More detailed out the presentation of the Invictus Games Team Ukraine you can see in «The Journalist» video.
Подписывайтесь на telegram-канал journalist.today